Sustainable and Eco-Friendly Tips for Visiting Atlanta
Published March 24, 2022
Last Updated April 22, 2022
Kermit the Frog once said, "It's not easy being green." But with a little planning, a visit to Atlanta can be more sustainable and eco-friendly, attributes travelers have come to expect. Check out these tips on how to reduce your carbon footprint, give back to local communities and leave Atlanta and our planet a little greener. And while you're at it, say hello to Kermit the Frog over at the Jim Henson exhibit at the Center for Puppetry Arts, which also happens to be silver LEED certified (Leadership in Energy and Environmental Design) by the U.S. Green Building Council.
Take Public Transit – MARTA
Hartsfield-Jackson Atlanta International Airport is one of the few airports in the U.S. with direct MARTA rail connection to city neighborhoods – in this case, Downtown, Midtown and Buckhead. Steps away from baggage claim, in the same building, board MARTA at Airport Station and arrive in downtown Atlanta in about 20 minutes. 
Beyond getting to and from the airport easily, MARTA rail also is a great way to get to concerts, performances and sporting events at Mercedes-Benz Stadium, Georgia World Congress Center, State Farm Arena and many attractions near MARTA. Atlanta Streetcar runs a short loop in Downtown to Edgewood Avenue. It's a fun way to see parts of the historic Sweet Auburn neighborhood including the Sweet Auburn Curb Market and the Martin Luther King, Jr. National Historical Park. 
Enjoy Walking, Biking and Electric Vehicle Tours
A great way to experience Atlanta is through a local tour, including walking tours plus tours on bikes, electric cars, electric bicycles and Segways. Not only are these carbon-friendly options, these tours offer a close-up view of the city with knowledgeable and personable local guides. ATL Cruzers, Atlanta Bicycle Tours and Unexpected Atlanta Tours are just a few of the local companies offering up close and personal tours of Atlanta.
Walking and biking are not only enjoyable, healthy ways to see the city, but fewer car trips also improve air quality. If we reduce short car trips by half, we reduce carbon emissions by 2 million metric tons, the equivalent of taking 400,000 cars off the road each year.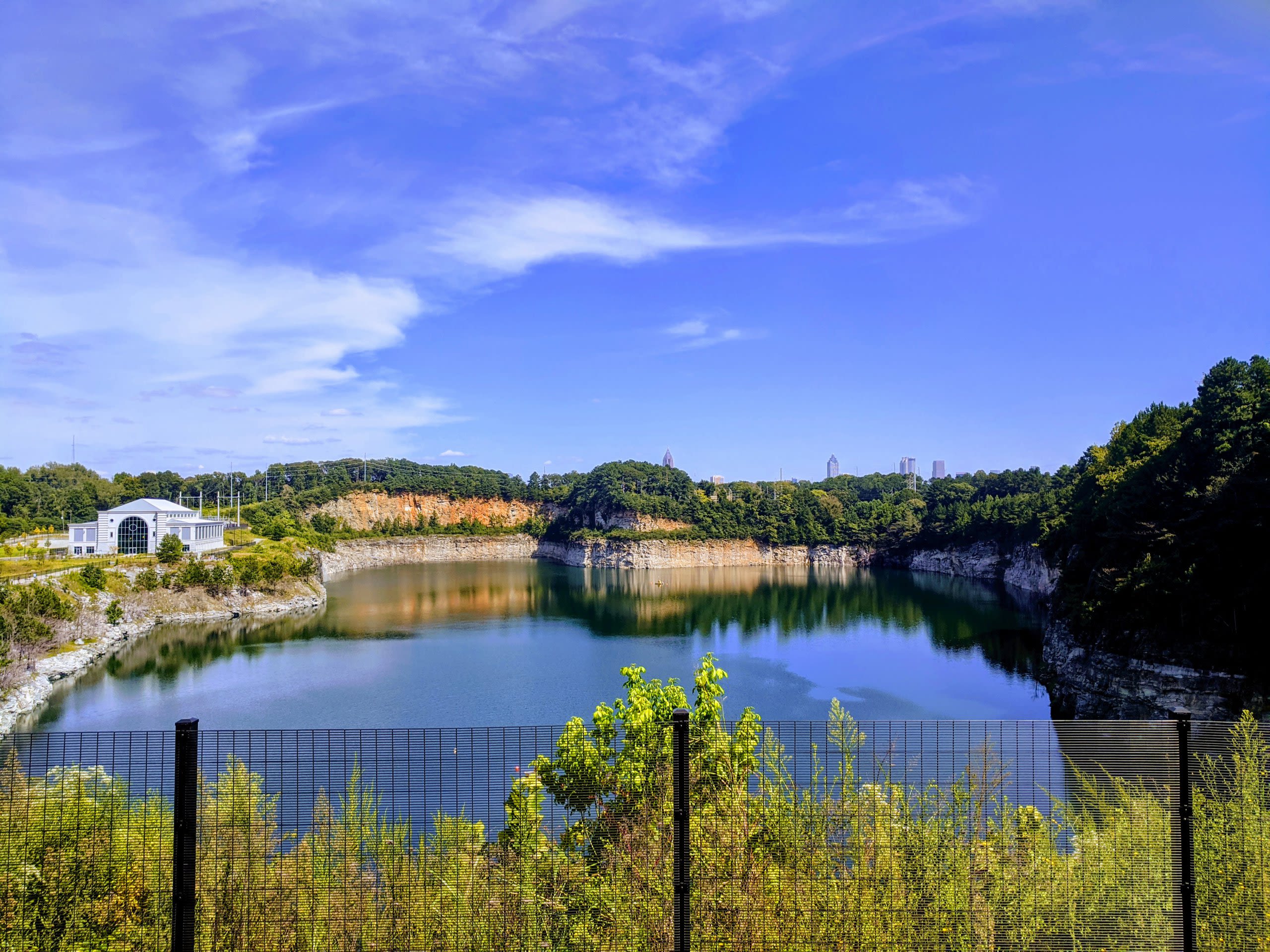 Visit Parks with Sustainable Features
Atlanta, fondly known as "The City in a Forest," is full of lush parks and green spaces, many designed with sustainability as core features. The best known is the local and national favorite, Atlanta BeltLine. One of the largest sustainable urban development projects in the country, the BeltLine will eventually connect Atlanta neighborhoods via a 22-mile loop of trails, parks and public transit. Several parts of the BeltLine are open for exploring by bike, scooter and walking, making it easy to enjoy art, dining and entertainment along the way. 
One of the newest parks in Atlanta, Westside Park, also will connect to the BeltLine. With jaw-dropping views of the city and beautiful new trails, the park's scenic reservoir is much more than a perfect photo op. The water reservoir, which was constructed with a massive drill affectionately nicknamed "Driller Mike," is designed to hold 2.4 billion gallons of emergency drinking water for a rapidly growing city. That capacity increases the length of time emergency water would last from the previous three to five days to somewhere between 30 and 90 days. Did you know that Atlanta is a leader in regional water management with one of the most comprehensive plans in the country? Since its implementation in 2001, water use has decreased by 10% despite the population growing by more than 1 million. Projects like the Westside Park are part of this innovation.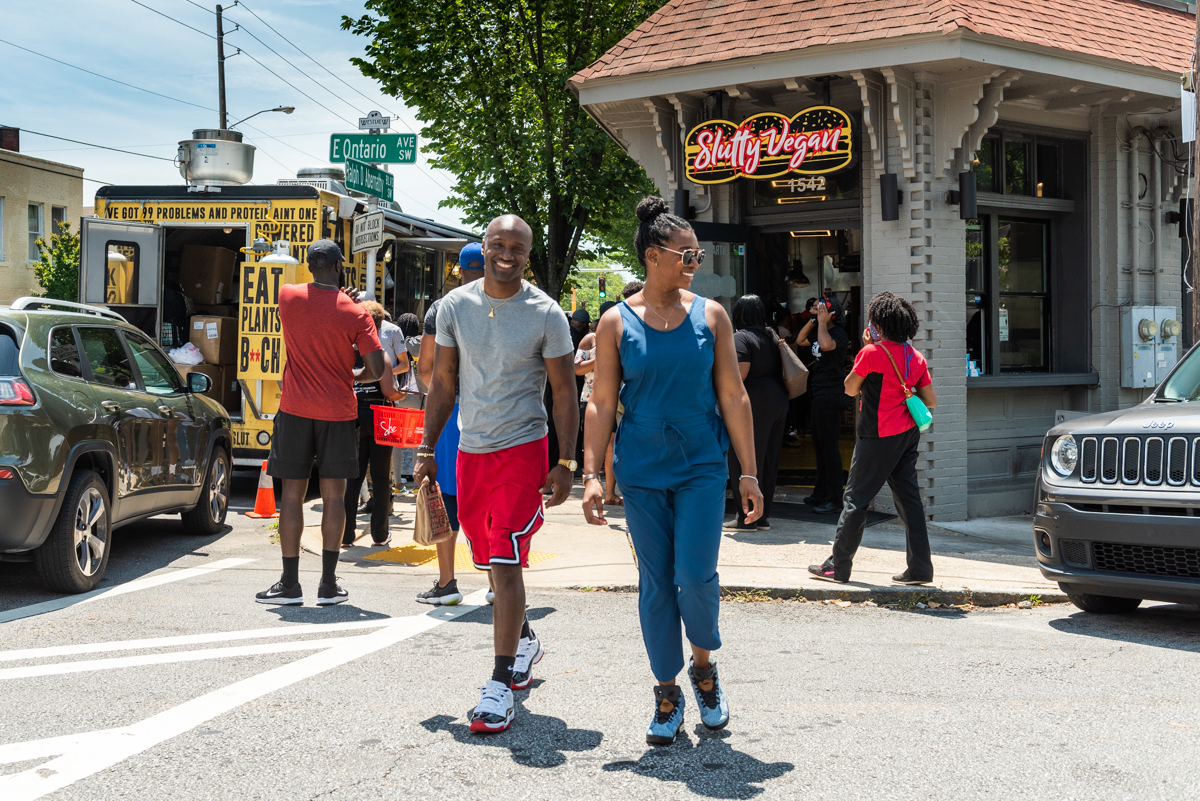 Eat at Local Restaurants
Atlanta's dining scene is known for innovation, creativity and the use of local produce and ingredients. Skip chain restaurants and choose local restaurants that source their ingredients from nearby farms. If you're cooking during your trip to Atlanta, farmers markets are fantastic places to sample locally grown produce and products, ranging from honey to cheese, preserves and more. The best part is the sampling.
Another easy way to reduce your carbon footprint is to eat less meat, which requires significantly more land and resources to produce. Atlanta's restaurants usually offer delicious vegetarian options. Another option: Try the city's vegan and plant-based restaurants.
Shop Local Businesses for Cool Atlanta Swag
Atlanta is a shopper's delight with many locally owned boutiques where you can support local communities, including Black-owned businesses, LGBTQ+ and women-owned businesses. Bring back a meaningful, hand-crafted Atlanta souvenir such as a cool art print, jewelry, home goods with an ATL flair and handmade candles. Don't forget a hip ATL T-shirt to proclaim your love of the city. Be sure to bring or buy a reusable water bottle to stay hydrated and reusable shopping bags (skip the plastic) to bring home your goods.
Make your Stay Eco-friendly
Whether staying at a hotel or vacation rental, there are simple things you can do to make your stay a little more eco-friendly. When you're leaving to explore Atlanta, adjust the air conditioning in your room and close the curtains to save energy, along with turning off all lights. Skip single use plastics in your room, such as plastic water bottles and the miniature shampoo, conditioner and lotions. Instead, purchase an ATL reusable water bottle or bring your own reusable water bottle and toiletries. 
Many Atlanta hotels are located in neighborhoods within walking distance of MARTA transit, making it easy to get around. Hotels and places to stay near Atlanta BeltLine are becoming increasingly popular since it's so easy to walk or hop on a scooter or bike to get to restaurants, bars, parks and things to do.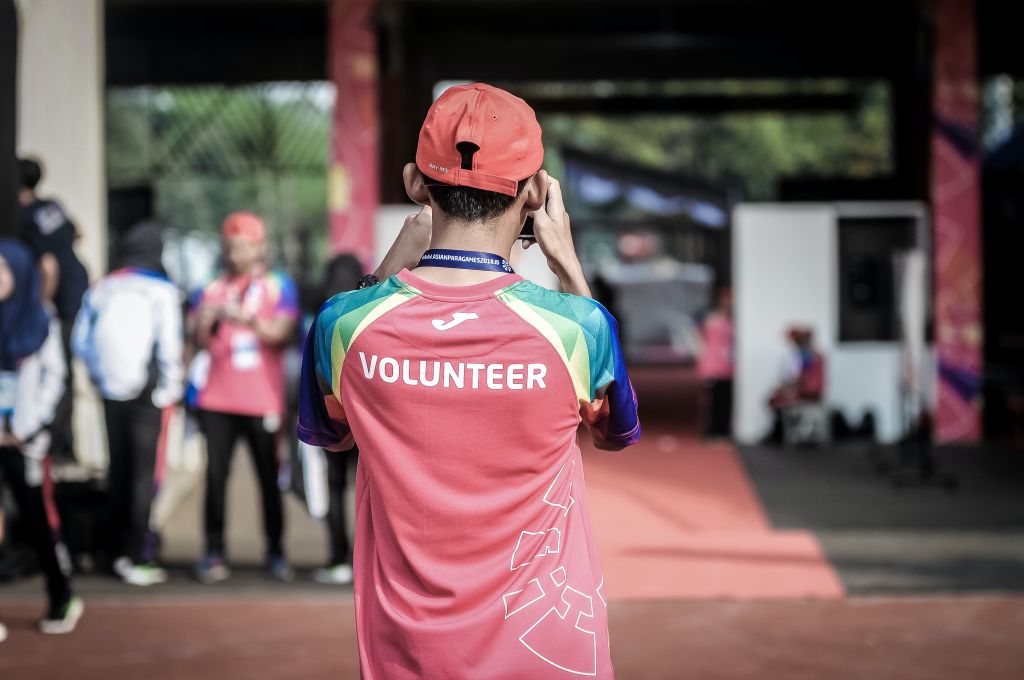 Volunteer with a Local Charity
Are you in Atlanta for a conference? Consider giving back to the local community by lending a hand and engaging locally with organizations like Trees Atlanta, Atlanta Community Food Bank and other local groups where you can make a difference. Many conventions held in Atlanta partner with these organizations for local community support, so be sure to sign up if you're able.
When you return home, consider all the easy ways you can continue these simple practices for a more sustainable world. It CAN be easy to be green.
Discover More
Get to know Atlanta, and discover the best things to do around the city.