Top Pubs for Watching Soccer in Atlanta
Whether you're a first-time soccer fan wanting to immerse yourself in the culture or a fanatic searching for the perfect place to cheer on your team, we have identified the top places to watch soccer in Atlanta. These pubs are known to attract ATL's most passionate soccer fans.
Brewhouse Cafe
Located in Atlanta's Little Five Points neighborhood, Brewhouse Cafe was founded in 1997 making it the oldest soccer bar in the city. Locally owned and operated, Brewhouse Cafe is known for its outdoor patio and pub grub like bangers and mash. With 25 large screen TVs, any seat is perfect for cheering on your favorite team.
Der Biergarten
An authentic German experience in the heart of Downtown, Der Biergarten offers authentic German fare and beer in a festive atmosphere. Watch the latest soccer match while enjoying a bratwurst, strudel or pretzel. With more than 7,000 square feet of indoor/outdoor space, Der Biergarten is well equipped to host watch parties and matches from around the globe.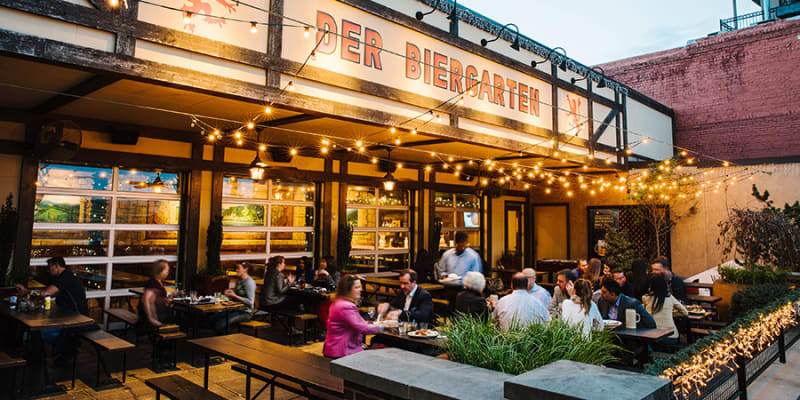 The Elder Tree Public House
A hidden gem in East Atlanta, The Elder Tree Public House is a stylish and contemporary tavern serving up European beer and classic Irish fare. Order one of Elder Tree's highly rated dishes, the Cumberland Pie, while you enjoy soccer on the big screen. Known for its "family and futbol" atmosphere, The Elder Tree Public House is a great place to catch your next soccer match.
El Tesoro
Translated as "the treasure," El Tesoro is the perfect rustic and dynamic venue for watching the latest soccer game. Nestled in Atlanta's Eastside neighborhood, it features a newly renovated 7,000-square-foot outdoor patio that fills up with enthusiastic soccer fans. El Tesoro not only offers Mexican cuisine and cocktails but coffee as well.
Fado Irish Pub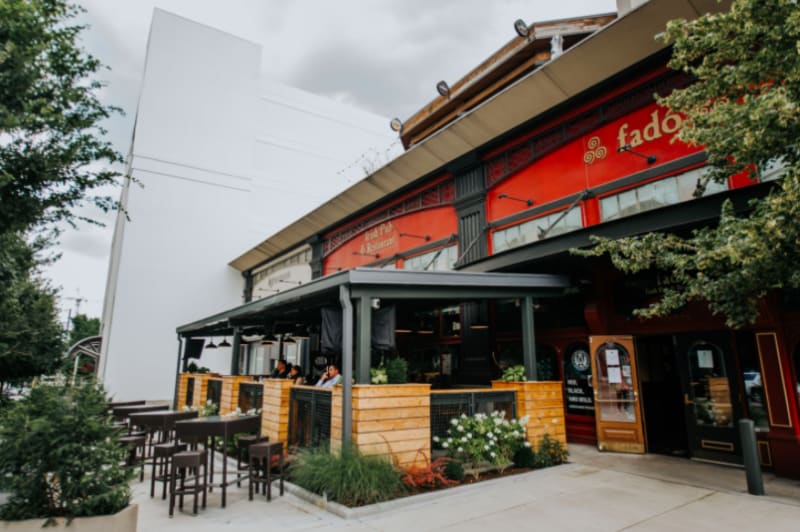 An official pub partner of Atlanta United, this Irish Pub has locations in Midtown and Buckhead. Modeled after Ireland's rich pub culture, Fado features dozens of international and local beers, a unique take on traditional Irish pub food and, of course, soccer. Choose Fado to cheer on your favorite soccer team as you enjoy superior Guinness and the slow-cooked lamb dip sandwich.
Georgia Beer Garden
This LGBTQ-owned establishment draws the most excited fans on Atlanta United FC game days. Hosting watch parties and pouring from more than 20 taps of locally brewed beer, Georgia Beer Garden is the place to be. Swing by with a friend to experience Downtown's largest backyard patio and feel-good music while cheering on your favorite team with other fans.
Hampton + Hudson
Looking for an elevated pub experience? Hampton + Hudson in Inman Park may be the gastropub you're looking for. A pub that offers high quality meals, Hampton + Hudson is an official Atlanta United pub partner that offers contemporary New American eats and wine on draft. You'll come to watch soccer but you'll stay because of the popular Hampton Hot Chicken Sliders and rustic chic atmosphere.
Meehan's Public House
Meehan's Public House is the perfect laid-back haunt to enjoy soccer with a cold pint and one of Meehan's popular sandwiches or burgers. Meehan's is an ideal location for visitors or residents exploring downtown Atlanta. Meehan's shares its neighborhood with some of Atlanta's top tourist destinations: Georgia Aquarium, World of Coca-Cola and Mercedes-Benz Stadium
Midway Pub
Known for its large selection of beer and its outdoor patio, this East Atlanta hangout is home to one of Atlanta United's largest supporter clubs, Footie Mob. Soccer. aficionados gather here year-round to watch the best of international soccer. Didn't get tickets to the Atlanta United match? Come here to experience Atlanta's exploding soccer scene up-close and personal with other fans.
Park Tavern
You and your pup can cheer your favorite soccer team at Piedmont Park's dog friendly restaurant, Park Tavern. Voted best patio in Atlanta, Park Tavern offers an electric bar atmosphere set in an old stone house. There's also outdoor seating that overlooks the neighboring park. Can't decide what to eat while watching the game? Park Tavern offers both land and sea options, anything from burgers to sushi, making both your dining and entertaining experience easy.
Discover More
Get to know Atlanta, and discover the best things to do around the city.