What Food is Atlanta Known For? Try These.
What foods define the ATL? Southern dishes come to mind but that's definitely not all. While we still serve up delicious crispy fried chicken, mouth-watering barbecue and hearty meat-and-threes, we're also home to a burgeoning craft beer scene, diverse international cuisine and innovative sweet treats. Sample some of these famous ATL dishes.
Barbecue
Slow-smoked, meaty goodness abounds in the ATL. Whether you prefer tender, juicy brisket, fall-off-the-bone ribs or melt-in-your-mouth pulled pork, Texas and Kansas City ain't got nothing over the ATL when it comes to 'cue. Take your pick from our BBQ Smackdown.
Burgers
You might be able to get a burger anywhere but you won't find these choices on just any burger menu. Head to Hobnob for a strawberry aioli or Southern Belle pimento cheese-topped version. At FLIP Burger Boutique, order the Butcher's Cut, with Angus beef, Emmi Roth buttermilk bleu cheese, caramelized onions, soy truffle vinaigrette, frisée, pickled shallots and red wine jam. Pair it with one of their famous adult milkshakes. At Grindhouse Killer Burgers, try the Apache, with pepper jack cheese, grilled onions and New Mexico green chiles. Daring diners at Cypress Street Pint & Plate can order the Krispy Kreme Burger. If you prefer your burger dairy-free Wonderkid has got you covered, and the meatless crowd knows to head to Slutty Vegan for the One Night Stand. Discover more places to find the best burgers in Atlanta.
Fried chicken
A Southern staple, there's no shortage of tasty options for fried chicken in the ATL. The place to meet over a plate during the Civil Rights movement, Paschal's is still serving up their Famous 1947 Fried Chicken. Mary Mac's Tea Room is favored for their double-battered goodness, and The Colonnade, another longtime ATL dining establishment, serves up "old-school chicken done right." Busy Bee Cafe is known for their "moist, juicy and bee-licious" fried chicken and The General Muir's version of the dish was featured in Garden & Gun.
Traditional eats
For years, the legendary downtown Rich's department store was known for its chicken salad and frozen fruit salad, served in the Magnolia Room. While Rich's is no more, another legendary Atlanta restaurant is keeping the tradition alive. Swan Coach House serves its signature chicken salad in delicate handmade timbales. Pair it with Swan Coach House cheese straws and their famous creamy frozen fruit salad. The perfect light lunch for a hot Southern day.
International foods
Korean, Latin American, Malaysian and Vietnamese are just a few of the flavors you'll find on Buford Highway. Dive into a Stone Bowl from Woo Nam Jeong, or a puspa from Rincon Latino. Try the chicken curry at Penang or a noodle bowl from Co'm. Follow it up with a frozen treat from 8 Fahrenheit, the perfect cooling dessert after a spicy tour around the world.
Craft brews
There is plenty of diversity in the ATL's craft beer scene, from European-style ales and German pilsners to fruity sours and hoppy IPAs. Pop into Monday Night Brewing for one of their cleverly named brews or sip a fruited gose at Red Brick Brewing, two of the first on the ATL brew scene. Discover what's on tap at the Lost Druid or kick back with a kolsch on the patio of the Wrecking Bar Brewpub in Little Five Points. There are plenty of hops to choose from to quench your thirst in the ATL.
Ice pops
Look for the rainbow umbrella, and under the rainbow, you'll find King of Pops, with adult appealing flavors like chocolate sea salt and Thai iced tea and a nod to the South with banana pudding.
Fried pies and naked dogs
Pull into The Varsity — or The V, as Atlantans fondly call it — and tell the car hop you'd like a "naked dog walkin' (plain hot dog to go), an FO (frosted orange shake) and a fried pie. Be sure to ask for a Varsity hat.
Sweet tea
Southerners love their sweet tea and you can't go wrong at Mary's Mac's Tea Room, where a tall, cold glass is the perfect accompaniment alongside a plate of their Southern cookin' — fried chicken, pot likker with cracklin' cornbread, fried green tomatoes and Brunswick stew. Take home a dozen cinnamon rolls. Explore more places to drink tea in Atlanta.
Meat and three
A Southern tradition, the meat-and-three is a hearty plate of your choice of meat — fried chicken, ham, country-fried steak, meatloaf or pork chops — with a choice of three sides, usually a vegetable, potatoes, mac and cheese or creamed corn. Served up with a slab of cornbread and an ice-cold tall glass of sweet tea to wash it down, there's nothing more Southern — or hearty — than a plate of meat and three. Tuck into a meal at one of many long-serving ATL dining rooms like the Colonnade or the Busy Bee Cafe, considered the ATL's Soul Food Kitchen, and we agree. Southern comfort at its finest.
25 Iconic Atlanta Dishes
Atlanta flavors know no bounds with offerings spanning the tried and true Southern fare the city is best known for as well as inventive and dynamic dishes that characterize our dining renaissance. But what makes a dish "iconic?" Is it those word-of-mouth eats locals wax poetic about to their visiting friends and family? Those Instagram-worthy indulgences that garner social media stardom? It's all of that and more. ATL's boasting big flavor, y'all!
From free signature sides at some of the city's most iconic restaurants to viral burgers begging for your attention, add these city-defining dishes to your culinary street cred.

The status and hours of the businesses listed below may vary due to COVID-19. Please check the business website for the most up-to-date information. Please see our disclaimer regarding the accuracy of this information. For more COVID-19 resources, click here.
---
Chris Watkins is an Atlanta-based content creator with a deep love and connection to the Atlanta dining and nightlife scene. In his past life he was the Atlanta editor for Thrillist with bylines in the pages of Jezebel Magazine, Men's Book Atlanta, and Where Atlanta Magazine. He currently operates Watkins Branding, a digital marketing and social media agency with focus on the restaurant and hospitality industry.
---
Lemon Pepper Wings
Gotta try it at: JR Crickets
Atlanta has a storied connection to the chicken wing, especially the lemon pepper variety. Aromatic with a savory, subtle tang, lemon pepper wings were the city's best-kept secret until that fateful episode of Atlanta. You know, the one that made "lemon pepper wet" a part of the culinary zeitgeist. Find them at Downtown chicken-filled stronghold JR Crickets. A few suburban locations have popped up too.
Goat Cheese Balls
Gotta try it at: Ecco
Cheesesticks are well and good, and you can have your ooey-gooey cheese pulls, but have you had a ball of goat cheese fried to perfection?! This beloved treat from ATL's modern European mainstay, Ecco, is a city stunner. It hits all the right notes in a delicate balance of assertive goat cheese, honey and cracked black pepper — a must-order before gorging on artisan flatbreads and pimped-out pasta.
A-Town Cream
Gotta try it at: Sublime Doughnuts
You can't have a list of iconic ATL dishes without including one that honors the city in its name. The A-Town cream at celebrated doughnut shop, Sublime Doughnuts, has all the traditional Boston Cream doughnut hallmarks. While it's covered in glistening chocolate and filled to the brim with sumptuous custard, that's where the similarities end. The alphabet-shaped doughnut is the shop's most recognizable offering, and the best way to rep the A is by eating an "A."
Ode to Blondie
Gotta try it at: Tiny Lou's
When Clermont Hotel reopened to modern glitz and glam above Atlanta's most beloved institution, The Clermont Lounge, their French-inspired restaurant, Tiny Lou's, decided to pay homage to one of the establishment's most storied dancers — Blondie. Now, Blondie does this thing with a beercan that we don't have the time to get into, but pastry chef Claudia Martinez's Ode To Blondie dessert is a must-try on the menu. Brown butter blondie topped with white chocolate namelaka, PBR caramel and spicy pecans? That we'll get into.
Fried Chicken
Gotta try it at: The Busy Bee Cafe & Paschal's Restaurant
Now, you can't come to Atlanta without having a few heaping helpings of fried chicken. It really should be the official state food with so many restaurants offering their traditional and unique takes on the Southern delicacy. While picks for favorites can get contentious, we're stuck in a toss-up between two of Atlanta's most iconic restaurants — Paschal's and The Busy Bee. They both opened in 1947 and have been vying for the title of ATL's top fried chicken ever since. Suffice to say, get some of their crispy, juicy chicken goodness in your system.
San Gennaro
Gotta try it at: Antico
Pizza is an unlikely addition to a list of the city's most iconic eats, but Antico bucks the Southern system with their glorious Neapolitan-style pies. An ATL favorite, Antico's San Gennaro pizza is a worthy introduction to the beloved pizza brand. A crisp crust unites savory Italian sausage, spicy red peppers and sweet cipollini onions covered in buffalo mozzarella. Be sure to share — or not.
H&F Burger
Gotta try it at: Holeman & Finch Public House
Chef Linton Hopkins' H&F burger is the double stack you've been waiting for all this time and holds the crown as the city's most iconic burger. A special grind patty is griddled to perfection and topped with melty American cheese, house-made pickles and slivered red onions between a buttery, toasted bun. What started as a nightly, limited-run burger at one of Atlanta's most celebrated restaurants, Holeman & Finch Public House, has grown into its own phenomenon and is an essential try for anyone visiting the A.
Farm Egg
Gotta try it at: Miller Union
James Beard Award-winning chef Steven Satterfield's ode to farm-to-table fare, Miller Union, is easily one of the first restaurants that comes to mind when thinking of seasonally-fresh dining. The Westside restaurant's menu is filled with nature's bounty of farm-fresh offerings, but the standout star is the farm egg baked in celery cream. Simple in thought yet complex in flavors, rich cream is infused with celery, onion, thyme, bay leaf, peppercorns and shallot, poured over a cracked egg, then baked. Served with crunchy, grilled bread, this might be the most thoughtfully-prepared appetizer you've ever consumed.
Peach Slider
Gotta try it at: Revolution Doughnuts
Some iconic offerings only come around once a year. And when they do, you better be sure to jump on them. Inman Park doughnut shop, Revolution Doughnuts, has one such dish — their seasonal peach sliders. Light doughnuts packed with juicy Georgia peaches and rolled in sugar, this ode to the Peach State is only available during summer in limited supplies given their popularity. So be sure to order a few dozen next time they come around.
Comfy Chicken Biscuit
Gotta try it at: Homegrown
When it comes to Atlanta breakfast destinations, Homegrown stands out as one of the best. The pride and joy of this Reynoldstown haunt is its Comfy Chicken Biscuit. Now, this isn't your typical run-of-the-mill chicken biscuit. Stay with me here. We're talking glorious fried chicken, splayed on a butter-drenched biscuit, and topped with pork sausage gravy. Let's just say you're going to need a nap after downing this popular plate of comfort.
Chocolate Sea Salt Pop
Gotta try it at: King of Pops (festivals, Ponce City Market, throughout the city)
All hail the king. Gourmet pop shop, King of Pops, has been making Atlantans happy with the icy treat since 2010. Staying true to their values and sourcing their ingredients from local farms, the little pop cart that could has grown into a mighty brand offering a plethora of flavors to enjoy seasonally and year-round. The go-to is their Chocolate Sea Salt Pop, a dreamy blend of rich dark chocolate amplified by sea salt. This is one fudgy find you should definitely try.
Crab Fritter
Gotta try it at: Bacchanalia
Bacchanalia's storied tasting menu and courses have been long lauded as one of the city's most essential dining experiences. While James Beard Award-winning chef Anne Quatrano's menu changes regularly, one menu mainstay is the crab fritter. It's fried with a hint of Thai pepper spice and complemented with citrus and avocado. It could possibly be ATL's most essential appetizer.
Pancakes
Gotta try it at: Ria's Bluebird
Ria's Bluebird is a staple in the Grant Park neighborhood, guiding residents to morning glory with plentiful platters of pancakes. Fluffy, buttery and topped with toasted pecans or bananas, you've gotta try these made-from-scratch flapjacks that were celebrated by The New York Times as "the world's best pancakes." No fake news here. Whether you like 'em short or fat, these stacks are where it's at!
20-yolk Tagliatelle
Gotta try it at: BoccaLupo
Inman Park's BoccaLupo has garnered a cult following for its perfectly prepared pasta offerings. Their 20-yolk tagliatelle is an Atlanta favorite. As the name says, celebrated chef Bruce Logue uses a minimum of 20 farm-raised eggs to create silky pasta ribbons and adorns it with robust mushrooms and kale kimchi for bite.
French Toast Sandwich
Gotta try it at: Le Petit Marche
Kirkwood breakfast and brunch gem, Le Petit Marche, has been a neighborhood favorite since 2008. Think daily breakfast scrambles, fluffy griddle cakes, salmon biscuits and so much more. But by far, the most popular item on their morning-centric menu is the French toast sandwich. Imagine a full breakfast spread, scrambled eggs, sausage and French toast. Ok, now imagine it all together as a sandwich soaked with syrup and topped with powdered sugar. After you pick your brain off the ceiling, dive deep into this iconic sandwich.
One Night Stand
Gotta try it at: Slutty Vegan
If you're a meat lover, odds are you aren't going to go out of your way to try anything vegan. But when Slutty Vegan burst on the scene offering "bangin' plant-based" burgers, those active carnivores had to see what the fuss was about. The viral sensation on celebrity Instagram feeds, showing their "O" face after taking one bite of the I-can't-believe-it's-not-meat burger, had the masses wanting to get "sluttified" themselves. The One Night Stand is an iconic intro with vegan bacon, vegan cheese, caramelized onions, lettuce, tomato and Slut Sauce on a vegan Hawaiian bun. It will certainly make you consider giving up meat.
Chili Cheese Dog
Gotta try it at: The Varsity
The Varsity has been serving up fabulous fast food since 1928. When one of their boisterous carhops exclaims, "What'll ya have?" it should probably be the savory chili cheese dogs. The world's largest drive-in restaurant is no-frills Atlanta goodness, whether on a game day or just grabbing a quick bite. Try not to get any on your shirt.
Pot Likker
Gotta try it at: Mary Mac's Tea Room
Southern restaurant institution, Mary Mac's Tea Room, has served as "Atlanta's Dining Room" since opening its doors in 1945. The down-home eats rank it high on visitors' to-do list to explore Atlanta's classic Southern cuisine. The most interesting and iconic part of that experience is a welcoming bowl of pot likker. You know, the liquid left behind from boiling seasoned collard greens. First-time visitors get a complimentary cup and cornbread. Now, if that isn't Southern hospitality, I don't know what is.
Ribs
Gotta try it at: Fat Matt's Rib Shack
You can't just eat one rib, but we dare you to try it at Morningside mainstay, Fat Matt's Rib Shack. Slathered in savory sauce and smoked to perfection, the slabs coming out of this veteran smokehouse reach fall-off-the-bone territory well before they hit your plate. And while Atlanta has no shortage of options for balls to the wall barbecue, we're riding with the OG that's been a must-visit 'cue destination for more than 20 years.
Oysters
Gotta try it at: Kimball House
Most wouldn't consider oysters to be an iconic dish specific to Atlanta, but Kimball House has garnered critical acclaim for its signature oyster happy hour that honors the briny bivalve. The Decatur craft cocktail bar curates the best oysters from across the nation, from the wilds of Maine, Massachusetts and even Georgia, to name a few. Paired with unique accouterments to amplify their flavor, get to slurpin' at this highly-lauded oyster haven.
Discover More
Get to know Atlanta, and discover the best things to do around the city.
25 Must-try Atlanta Restaurants
Famous, Tried-and-true dining experiences
ATL has a flavor all its own, and these tried, and true dining destinations are the must-try restaurants you can't afford to miss.
Every major city has those restaurants you have to try. You know the ones we're talking about. They occupy a certain place in locals' hearts and bear a reputation of being the go-to place to experience the flavors and vibes that embody what a city is all about. The dining destinations residents say, "You can't visit *insert awesome city like Atlanta* without eating at *insert one of our many well-known and time-tested restaurants*. And with ATL being a foodie city, we've got quite a few with that street cred you'd be remiss if you didn't try. From classic soul food haunts and brunch bastions to blues-belting barbecue joints and fine dining forays, these are Atlanta's most iconic restaurants.
*Please note that some of these businesses might have changing hours due to the COVID-19 pandemic. Check websites for the most up-to-date information.
---
Chris Watkins is an Atlanta-based content creator with a deep love and connection to the Atlanta dining and nightlife scene. In his past life he was the Atlanta editor for Thrillist with bylines in the pages of Jezebel Magazine, Men's Book Atlanta, and Where Atlanta Magazine. He currently operates Watkins Branding, a digital marketing and social media agency with focus on the restaurant and hospitality industry.
---
Mary Mac's Tea Room
Where: Midtown
Mary Mac's Tea Room has delivered on serving up down-home faves like fried green tomatoes, fried chicken and copious amounts of sweet tea (never order unsweet here; it's blasphemy) since opening its doors in 1945. Yes, for 75 years, it's been a legend in Atlanta's culinary story, and if you ask anyone where to go for a healthy dose of proper Southern cooking, this Ponce de Leon icon will be first on the list.
The Colonnade
Where: Buckhead
From the outside, The Colonnade may not be much to look at with its vintage wood paneling and retirement community vibes, but it's what's on the inside that counts. And inside the Atlanta institution that's been around since 1927 is a lively and loyal crowd of regulars that live by Cheshire Bridge Road restaurant's penchant for stellar fried chicken and comforting nightly specials.
The Busy Bee Cafe
Where: Vine City
The Busy Bee Cafe is essential ATL dining. No pretense. Just great food and a history that spans more than 70 years in serving up consistent, time-tested recipes you won't soon forget. A favorite of celebrities and politicians alike over the years, the West End soul food diner is a necessary stop to explore for their signature fried chicken, vegetables and other Southern delicacies.
Paschal's
Where: Castleberry Hill
With a storied history going back to 1947, Paschal's has cemented a legacy in Castleberry Hill as one of Atlanta's foremost destinations for fall-out-of-your-seat fried chicken — it's that good. After you pick yourself up off the floor and calm your nerves with their award-winning peach cobbler, immerse yourself in the restaurant's civil rights heritage where it served as the central meeting place for the likes of Martin Luther King Jr., Andrew Young, Maynard Jackson and more leaders of the movement.
Pittypat's Porch
Where: Downtown
Since opening in 1967, little has changed at Downtown stalwart Pittypat's Porch. And that's part of its mystique as one of Atlanta's most iconic establishments. Named after Scarlett O'Hara's aunt in the film "Gone With the Wind," dining at Pittypat's is like traveling back in time. A time of prim and proper Southern dining on pewter and floral adorned plates piled high with Georgia catfish, Southern sides and pecan pie. Complete the antebellum experience by sipping stiff mint juleps on their upstairs vintage rocking chairs. It's what Pittypat would've wanted.
Eats
Where: Poncey-Highland
With a name like Eats, you know what you're getting yourself into. The casual Ponce de Leon cafeteria opened its doors in 1993 as a no-nonsense respite from the day's worries. Since then, it's become an Atlanta institution best known for its uncompromising meat and three plates of their famous jerk chicken, meatloaf and veggies. These comforting dishes, combined with cheap prices, made it a welcome addition to the nearby college community and workers searching for the best bang for their buck. That continues to resonate to this day.
Manuel's Tavern
Where: Poncey-Highland
Manuel's Tavern has always been a burgeoning destination for beers and bright conversations. After opening in 1956, it became the foremost neighborhood bar and meeting spot for politicians, journalists and locals to either catch a sports game or debate the latest politics. The latter was its claim to fame. Even former President Jimmy Carter was a regular, and if you take a look around at the slices of nostalgia adorning the walls, you'll see why this Eastside establishment is so highly revered. It now sits on the National Register of Historic Places (if that tells you anything about the Poncey-Highland mainstay).
Fat Matt's Rib Shack
Where: Morningside
Fat Matt's Rib Shack is an ATL icon through and through, and a consistent player on residents' lists of their favorite barbecue spots. Whether it's racks upon racks of saucy, savory ribs, pulled pork sandwiches or comforting sides, you know you're in for a treat when you pull up to the neon-lit Morningside 'cue house.
Johnny's Hideaway
Where: Buckhead
Catering to an older crowd as the go-to destination for marathon dancing and bar-driven eats like tater tots, nachos and wings, Johnny's Hideaway has lived a storied history in Buckhead for over 40 years. The old school disco with little pretense has welcomed countless celebrities, played as the backdrop to Hollywood movies and reinvented itself over the years by offering a mix of classic hits and modern tunes to draw in younger patrons. Based on its long reputation of being the place to dance like nobody's watching and fill your spirit with nostalgia and great vibes, it's a vital piece of old Atlanta's story.
Murphy's
Where: Virginia-Highland
Bring on the brunch! A Virginia-Highland staple for 40 years, Murphy's penchant for delivering game-changing comfort food and brunch has cemented its legacy as one of the most beloved destinations to enjoy a weekend breakfast/lunch feast. Park yourself in front of signature favorites like the chilaquiles, crab cake Benedict, banana-covered French toast and more hits that will have you making a standing appointment at this Atlanta icon.
The Varsity
Where: Downtown
You've heard the rally cry from eager carhops ready to serve. "What'll ya have?" isn't an easy question to answer when there's so much to choose from at the world's largest drive-in restaurant, The Varsity. This downtown Atlanta institution has been keeping college students, sports revelers and locals fed with coma-inducing chili-cheese dogs, onion rings and more fabulous fast food since 1928. And don't get us started on the Frosted Orange shake. The Varsity is an Atlanta icon like no other.
Nakato
Where: Buckhead
Japanese fare doesn't get any better than Nakato. As the oldest Asian restaurant in Atlanta, it's called the luxe neighborhood of Buckhead home for more than 45 years and is still going strong welcoming a new generation of sushi and omakase lovers. The real star of the show is the authenticity of technique and service where time-honored traditions of private tatami dining, high-flying hibachi and razor-thin cuts of sashimi impart elements of wonder that keep patrons coming back for more.
Grand China
Where: Buckhead
Far East flavors of China, Japan and Thailand combine for a global melange of flavors at Grand China. Since 1978, the Buckhead institution has been a neighborhood favorite featuring an extensive menu that would take weeks to eat through. Whether you've got a taste for Peking duck, shrimp lo mein, beef pad Thai, sushi or ramen, Grand China has you covered no matter the mood.
The Silver Skillet
Where: Home Park
Atlanta loves a good diner, especially for breakfast, and The Silver Skillet has been the go-to since 1956. That's a long time, and the Midtown eatery is still bursting with 1950s nostalgia. Its vintage decor has made it a top filming location for many tv shows and movies. The Silver Skillet can be seen in "Traveling Man," "Remember the Titans" and "I'll Fly Away," plus many more movies, TV shows and music videos. For folks looking for an essential Southern breakfast, you can't go wrong with their famous country ham with red-eye gravy, country-fried steak and cheese eggs. Top it all off with their signature and award-winning lemon icebox pie and you're already ahead of the game.
Majestic Diner
Where: Poncey-Highland
Serving up "food that pleases," Majestic Diner has been a long-standing fixture in Poncey-Highland since 1929. As one of Atlanta's oldest restaurants, the time-tested greasy spoon brings many quality breakfast and lunch options daily. You'll find everything from burgers and sandwiches to omelets, pancakes and waffles.
Sublime Doughnuts
Where: Various Locations
Since opening in 2008, Sublime Doughnuts has been one of Atlanta's favorite stops for doughnut deliciousness. And while not technically a restaurant, the numerous accolades under its belt and a reputation for bringing unique flavors to life in doughnut form made it a must-add to this list. I don't make the rules, sorry. From its raspberry-filled dark chocolate-covered heart doughnuts and A-Town cream to its orange-glazed dream star and fresh strawberries-n-cream, this is one dough dealer not to miss.
Canoe
Where: Vinings
Tucked along the banks of the Chattahoochee River, the peaceful serenity of riverside restaurant, Canoe, is only enhanced by its fine dining moxie. Consistently featured on national lists for its pristine New American cuisine and romantic environs, take a relaxing before/after-dinner stroll through their lush garden. Step outside your comfort zone with bites of their signature house-smoked salmon and peppercorn crusted kangaroo loin.
The Sun Dial Restaurant, Bar and View
Where: Downtown
Set atop the towering disco ball that is Westin Peachtree Plaza, the Sun Dial Restaurant, Bar and View is an essential fixture of downtown Atlanta's sprawling skyline. Since its inception, Sun Dial has garnered praise as one of the most romantic restaurants in the city and serves as the litmus test for bucket list experiences that every visitor and local must try. Brilliant brunch and contemporary American dining combine with the most breathtaking views the city has to offer.
Polaris
Where: Downtown
Atlanta restaurants with out-of-this-world ambiance really ramp up the romance factor on date night, and sky-high revolving restaurant Polaris is one of the most engaging destinations to show your lover something new. While the blue-domed "spaceship" perched atop the Hyatt Regency Downtown closed in 2004 after decades of service, it reemerged in 2014 to reclaim its glory as one of the city's most iconic landmarks for cocktails and contemporary dining.
Nikolai's Roof
Where: Downtown
Atlanta loves a good rooftop restaurant, and Nikolai's Roof is no exception. Sitting atop the Hilton Atlanta, this Downtown icon has been around since 1965, serving up sophisticated cuisine with Russian influence in exotic items like piroshki, borscht and foie gras. Ranking high on the romance factor, city views, an extensive wine list and mind-blowing desserts (Grand Marnier souffle, anyone?) make this city mainstay a must.
Aria
Where: Buckhead
Aria is nothing short of essential fine dining in Atlanta, with contemporary updates on classics and immaculate service. It's a place where memorable meals happen, and chef/owner Gerry Klaskala's culinary passion front and center in thoughtful, meticulously-crafted dishes that read more like works of art than simple appetizers and entrees. And in the 20 years Aria has called Buckhead home, the James Beard Award "Outstanding Service" semifinalist has painted the picture of what bespoke dining in ATL is all about.
La Grotta
Where: Buckhead
Located in the heart of Buckhead, La Grotta has been an Atlanta fine dining tradition since 1978. The basement-level Italian restaurant oozes old-world charm and romance amplified by classic pasta dishes like goat cheese ravioli, penne bolognese, pappardelle lobster and more comforting offerings. And there's just something special about black truffles shaved tableside to take your meal to the next level. Don't say "when."
Chop's Lobster Bar
Where: Buckhead
You can't talk about iconic dining in Atlanta without several Buckhead Life Restaurant Group's concepts coming into the conversation. Just take Chops Lobster Bar, the quintessential steakhouse driving the ATL's ultimate fine dining experience for over 30 years. We're talking the finest cuts of USDA prime steaks, A5 wagyu and all the fixings you'd expect from a Buckhead icon that continues to garner awards to this day. Whether it's celebrating a birthday, business deal or you want to be pampered with pristine service; you've gotta add Chops to your must-try list.
Atlanta Fish Market
Where: Buckhead
Giant fish outside, big seafood flavors inside — that's Atlanta Fish Market. As another gem from the Buckhead Life Restaurant Group, this sea-faring icon in one of Atlanta's most upscale neighborhoods has delivered on showcasing the freshest seafood and unadulterated service since it opened in 1993. Featuring Atlanta's largest selection of wild-caught fish, don't miss out on the feast of broiled or fried seafood platters adorned with lump crab cakes, jumbo shrimp, scallops and more.
Kevin Rathbun Steak
Where: Inman Park
There are steakhouses, and then there are steakhouses. The latter being the incomparable fine dining experience you'll receive at Kevin Rathbun Steak. Chef Kevin Rathbun's celebrated ode to all things steak in Inman Park is one of the top steakhouses in the United States. Sizzling sides and sauces play well with impactful appetizers like sriracha-molasses covered bacon and seared foie gras, but you're here for the steak — and Rathbun's savory selects of USDA dry-aged cuts is the thing dreams are made of.
Discover More
Get to know Atlanta, and discover the best things to do around the city.
Best Atlanta Lunch Restaurants for a Delicious Dining Experience
Best Atlanta Lunch Restaurants for a Delicious Dining Experience
Whether you have a business meeting and need a quiet, convenient place to talk shop or are looking to catch up with friends over lunch, we've got you covered. Lunch options in Atlanta are bountiful and delicious, no matter what part of the city you find yourself in. From Downtown to Midtown to Buckhead, enjoy a terrific midday meal experience at one of Atlanta's best lunch restaurants.
Please note: Restaurants throughout Georgia can offer in-person dining using social distancing guidelines set forth by the governor's office. Make sure to visit the restaurant website or call ahead to confirm dine-in, takeout or curbside pickup and delivery options.
Dine in Style at the Best Places for Lunch in Buckhead
The upscale neighborhood of Buckhead is not only known for its shopping but has long been home to great dining as well. Whether you are looking for a spot to host a lunch meeting or a place for a quick bite, here are some of the best restaurants for lunch in Buckhead that are sure to please.
Blue Moon Pizza
Everyone loves pizza, and Blue Moon does not disappoint. Offerings range from classic pies to specials like the Luna, drizzled with spicy ranch, house cheese blend, chorizo sausage, caramelized onions, and other goodies. Blue Moon also offers sandwiches, salads, wings and more.
Dine-in, curbside pickup and no-contact delivery available.
325 East Paces Ferry Rd NE #3, Atlanta, GA 30305
bluemoonpizza.com
(404) 814-1515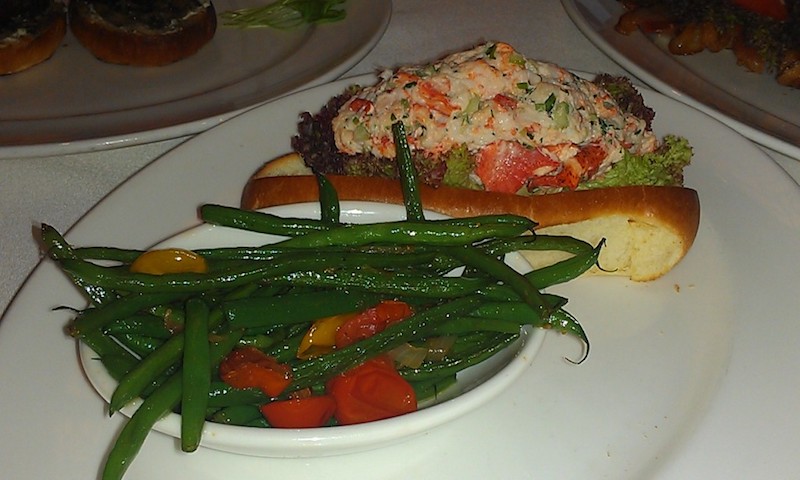 Capital Grille
Those in the know associate the Capital Grille with a great steak, but the restaurant also offers a delicious two-course lunch plates that will have you in and out in no time. Choose the porcini mushroom bisque followed by mini tenderloin sandwiches with Parmesan truffle fries for a decadent and filling lunch that's just $20.
Dine-in and curbside pickup available.
255 East Paces Ferry Road NE, Atlanta, GA 30305
thecapitalgrille.com
(404) 262-1162
La Fonda
This Latin restaurant features Cuban and Mexican specialties, including Cubanos and arguably the best enchiladas in town. Though La Fonda has both the traditional (with all the meats) and seafood-only paella, one of the most unique options is the vegetarian paella which includes, eggplant, artichoke hearts and squash. All paella is available in one- or two-person quantities. You will have a hard time choosing what to eat from the extensive menu.
Dine-in and takeout available.
2813 Peachtree Road NW, Atlanta, GA 30305
lafondaatlanta.com
(404) 816-8311
Red Pepper Taqueria
Located in the heart of Buckhead, this taqueria offers traditional Mexican fare using only the freshest local ingredients to create the best tacos. A local favorite is the Al Pastor taco with braised pork, pickled onions, pineapple y salsa verde. You will also find an assortment of weekly specials so make sure to check the menu.
Dine-in and takeout available.
3135 Piedmont Road NE, Atlanta, GA 30305
eatredpepper.com/buckhead
(404) 869-2773
Storico Fresco Alimentari e Ristorante
Not only can you fill up on fresh-made pasta dishes at Storico Fresco, this Buckhead lunch restaurant is also one of the best places around to buy fresh pasta to take home with you. Part of the dining room at Storico Fresco has been converted so that it connects to the covered patio and street, making it easy to get all the fresh pastas, paninis or tasty salads you want.
Dine-in, takeout or curbside pickup, and no-contact delivery available.
3167 Peachtree Road NE, Suite S, Atlanta 30305
(404) 500-2181
storico.com/strada
Sufi's
This Persian restaurant offers a great variety of specialty kebabs served with aromatic saffron basmati rice. There are lots of veggie options, falafel, lamb shank and a great Persian stew. There is even a special kid's menu.
Dine-in, curbside pickup, and delivery available.
1814 Peachtree St. NW, Atlanta, GA 30309
(404) 888-9699
sufisatlanta.com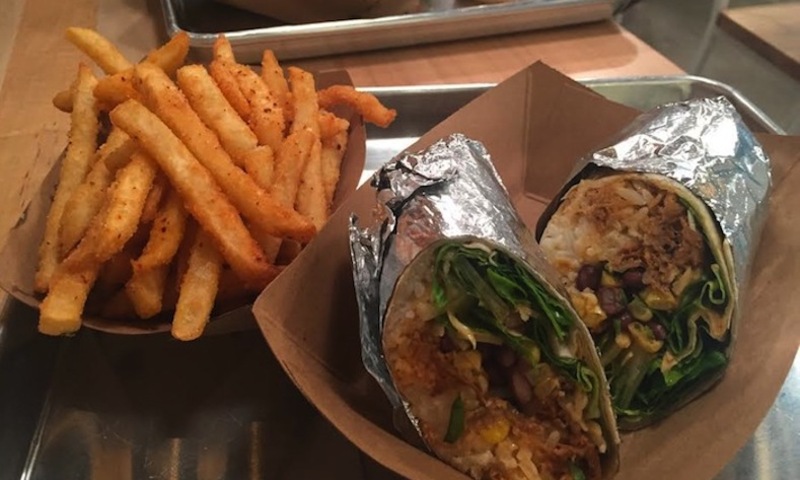 Yumbii
Not your average Taco Shop. Yumbii, a fusion of Mexican and Asian flavors, offers dishes like panko-crusted fish, Asian rib-eye tacos and spicy pulled-pork burritos. Sides include sesame fries tossed in sesame oil and Yumbii's own special spice mix with chipotle ketchup.
Dine-in, curbside pickup, and no-contact delivery available.
1927 Peachtree Road NE, Atlanta, GA 30309
(404) 975-3444
yumbii.com
Explore even more great restaurants in Buckhead Atlanta.
Chow Down at the Best Lunch Restaurants in Midtown Atlanta
Looking for a tasty spot in Midtown to have lunch? Whether you are taking a break from shopping, museums or the office — try this list of the best restaurants for lunch in Midtown.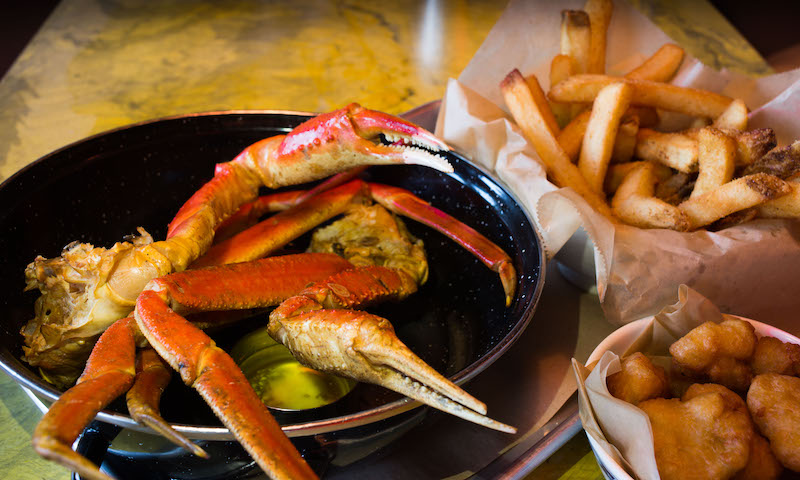 Bon Ton Boil House
A mash-up of Cajun and Vietnamese flavors? Yes please! Bon Ton Boil House offers mouth-watering sandwiches like the catfish banh-mi, boiled and fried platters, noodles and plenty more savory Cajun seafood entrees. And don't forget the corn nuggets.
No-contact curbside pickup and delivery available.
674 Myrtle St. NE, Atlanta, GA 30308
bontonatl.com
(404) 996-6177
Cafe Agora
If you love Mediterranean food, you will not want to miss Cafe Agora. It offers all the classics including a delicious gyro, shish kebab and tempting salads, but the appetizers are really where Agora shines. Greek favorites like spanakopita, domas, hummus and fried eggplant are delish, but we recommend you get the Maza Platter and try a little of each.
Dine-in, takeout, and no-contact delivery available.
92 Peachtree Place NE, Atlanta, GA 30309
(404) 253-2997
cafeagora.com
Pho King
If noodles are your game, Pho King is the place to eat. Generous helpings of tasty noodle dishes with a variety of meats and garnishes make a healthy and delicious lunch. The banh mi sandwiches and pho noodle soup filled with rice noodles, broth and your choice of meat, fresh veggies and herbs are other delicious options.
Takeout and delivery available.
950 West Peachtree St. NW Suite 240, Atlanta, GA 30309
(404) 565-1953
phokingexpress.com
Specializing in contemporary Southern cuisine, South City Kitchen doesn't disappoint. Nestled in an iconic bungalow on Crescent Avenue, enjoy lunch with a view of the city skyline from the patio. Dine on Southern classics such as buttermilk fried chicken, tasty shrimp and grits, fried green tomatoes and she-crab soup.
Dine-in and takeout available.
1144 Crescent Ave. NE, Atlanta , GA 30309
(404) 873-7358
midtown.southcitykitchen.com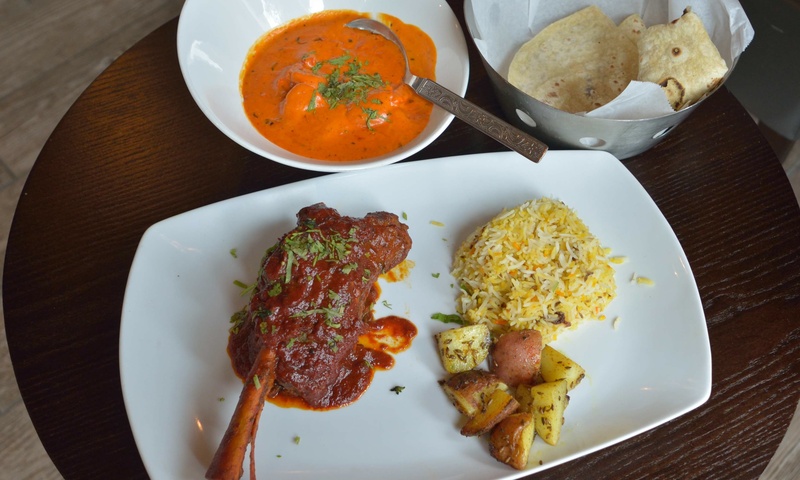 Tabla
Tabla is an outstanding lunch restaurant to add to your list. Boasting a mouth-watering selection of Indian dishes such as tandoori shrimp or octopus, lamb sheek kebab and an array of delicious curries that are sure to please your palate. For lunch, the small plates are a great option, and if you're in a hurry, try the wraps. A variety of sides and breads are available as well.
Dine-in, takeout, and no-contact delivery available.
77 12th St. NE #2, Atlanta, GA 30309
(404) 464-8571
tablaatlanta.com
Vortex
The Vortex is a longstanding Georgia establishment known as "The Godfather of Burgers." In addition to some of the best burgers in Atlanta, you will also find some scrumptious bar foods and drinks, all set within a rock 'n' roll atmosphere. Not into the beef, the Vortex offers beef alternatives, salads and other tasty snacks. Got your kids along? Skip this place as its strictly 21+, all day, every day.
Dine-in and takeout available.
878 Peachtree St. NE, Atlanta, GA 30309
thevortexatl.com
(404) 875-1667
Explore more restaurants in Midtown Atlanta.
Try One of the Top Restaurants for Lunch in Downtown Atlanta
With so many things to do in Downtown Atlanta, you need a list of restaurants nearby to keep handy for a lunch stop. Whether you are looking for a fancy place for a business meeting or a quick and casual spot to refuel, stop in at one the best downtown Atlanta restaurants for lunch.
Be transported to Naples, Italy right in the heart of Downtown Atlanta when you visit Amalfi Pizza. With the frescoes and cobblestone entryway, it perfectly sets the mood for pizza and other Italian goodies. Get the specialty, Pizza Carnevale, filled with pockets of ricotta cheese, and add an assortment of toppings like spicy sausage, meatballs, caramelized onions, peppadew peppers or Neapolitan spicy salami.
Dine-in, takeout, and delivery available.
17 Andrew Young International Blvd. NE, Atlanta, GA 30303
amalfipizzaatl.com
(404) 228-7528
Der Biergarten is a German beer garden and restaurant located only a short walk from Centennial Olympic Park in the Lucky Marietta District of downtown Atlanta. One of the go-to items here is the Jagerschnitzel. If you are feeding a hungry group, go for the König Ludwig Platte, a variety of the best items that serves six. Note: Der Biergarten is open for lunch only on weekends.
Takeout only.
300 Marietta St. NW, Atlanta, GA 30313
derbiergarten.com
(404) 521-2728
Riding MARTA downtown for an event? Allow enough time for a lunch stop at The Hub because where you'll find plenty of great lunch options. Gus's Fried Chicken is a restaurant worth seeking out for its slightly spicy fried chicken and generous, tasty sides, like mac and cheese. Panbury's, another great option at The Hub, is known for its delicious savory pies. Get the country chicken. Other great options in The Hub include Tin Lizzy's and top-rated Aviva (even if there's a line, it's worth the wait).
Peachtree Center MARTA Station or 225 Peachtree St. NE, Atlanta, GA 30303
peachtreecenter.com
(404) 654-1296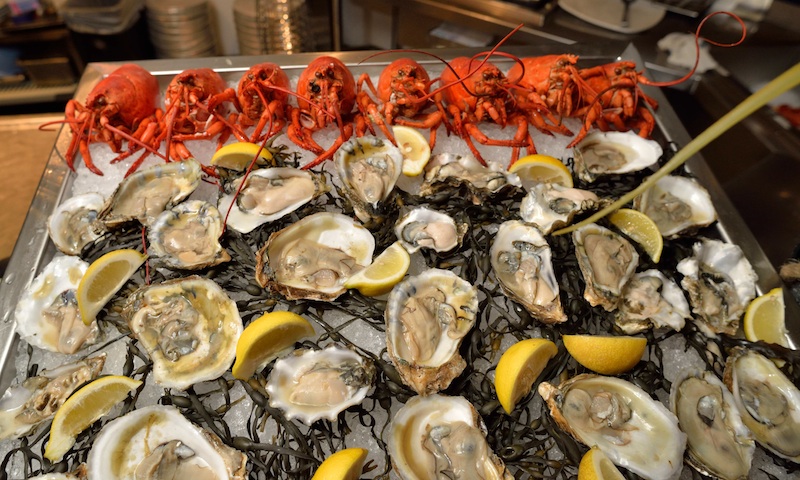 Right in the heart of Downtown near the entrance to the AmericasMart, you'll find Ray's in the City. Known for its delicious seafood flown in daily from the Atlantic and Pacific, a stop at Ray's will be well worth the time spent. At lunch, sandwiches are a good choice if you want to be in and out in a hurry. Want to keep it light? Get the Cobb salad with steak or lobster. And you can't go wrong with the signature horseradish-crusted grouper.
Dine-in, curbside pickup and delivery available.
240 Peachtree St., Atlanta, GA 30303
raysrestaurants.com
(404) 524-9224
Reuben's Deli
New York style, New York taste, New York vibe, in the South. Reuben's Deli is a hands-down favorite for deli sandwiches in Atlanta. This spot stays busy but that oh-so- delicious flavor will be worth the wait. Reuben's homemade soups and desserts are excellent options to add-on to any lunch. Just follow the posted rules for ordering — "Yell. Watch. Eat" — your tummy will thank you.
Takeout and delivery available.
57 Broad St. NW, Atlanta, GA 30303
(404) 589-9800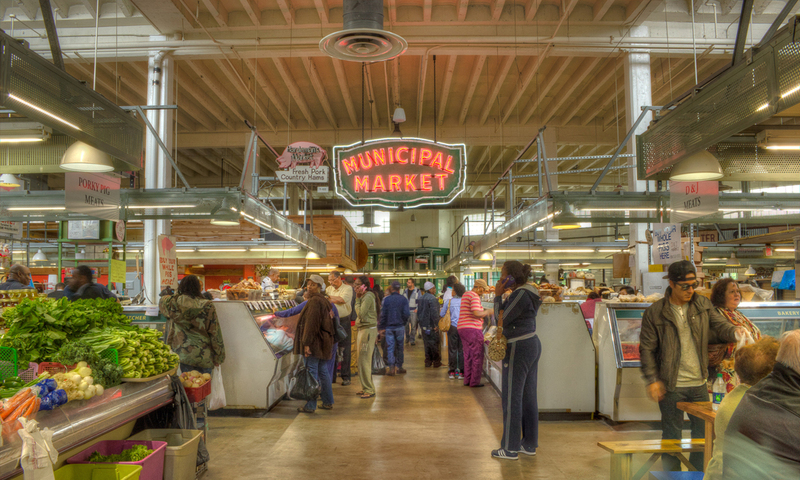 Why not do your food shopping and have lunch all at the same place? The Sweet Auburn Curb Market, steeped in history, features tons of fresh vegetables, seafood, and all kinds of cuts of meats. Need chicken feet or pigs' ears? You can find them here. Plus, there are several food stalls featuring everything from Southern cooking to trendy burgers (Grindhouse Killer Burgers) to sweets. It's a fun experience to share with your out-of-town guests.
209 Edgewood Ave. SE, Atlanta, GA 30303
municipalmarketatl.com
(404) 659-1665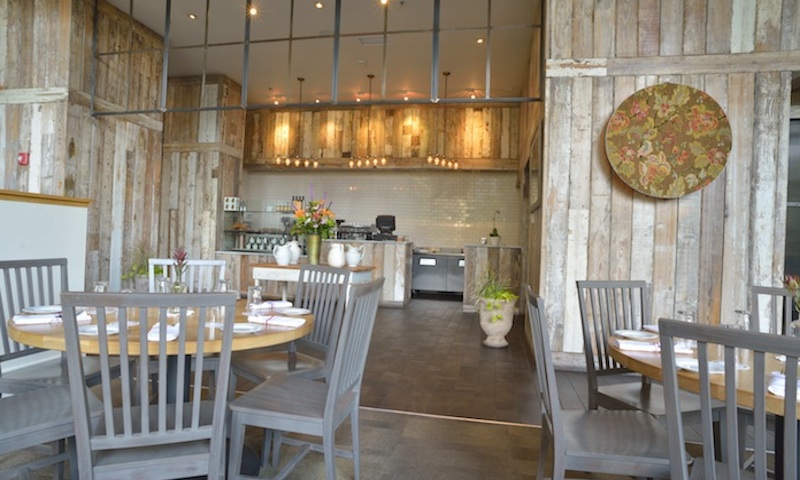 If a bright and swanky spot is what you are looking for, then head to White Oak Kitchen, an upscale Southern restaurant featuring excellent lunch entrees. White Oak offers the perfect ambiance for a quiet business lunch, and its upscale enough for a celebration. Start with the savory beignets and then get the lamb burger.
Dine-in, takeout and delivery available.
270 Peachtree St. NW, 100, Atlanta, GA 30303
whiteoakkitchen.com
(404) 524-7200
Explore a full list of places to eat in downtown Atlanta.
No matter what you're in the mood for, you've always got plenty of dining options in Atlanta.
Sugar Cookies
Sugar Cookies
chocolate. spice.
makes 3 dozen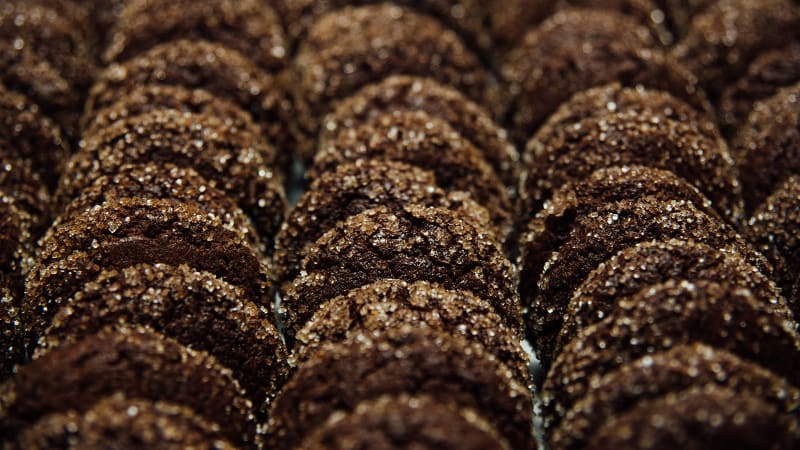 dough
½ lb butter, unsalted
11 oz sugar
2 eggs
1 tsp vanilla
1 oz milk
3 oz cocoa powder
14 oz ap flour
1 tsp salt
1 tsp baking powder
1 tsp cinnamon
¾ tsp cayenne powder
sanding sugar, for decoration
In a stand mixer fitted with the paddle attachment, cream together the butter and sugar at medium speed. Add eggs, one at a time. Add milk and vanilla.
Sift dry ingredients together. Add dry ingredients in three parts, mixing gently between each addition.
Be careful not to over mix the dough.
Once the dough is ready, scoop into desired size (a 1 ounce scoop works best). Roll each cookie in sanding sugar.
Place cookies onto a parchment lined sheet pan and bake for 8-12 minutes at 350 F.
plating
tall glasses of cold milk
Put as many into your mouth as can fit. Wash down with milk.
Southern French Toast
Southern French Toast
challah. brown sugar. french cream.
serves 4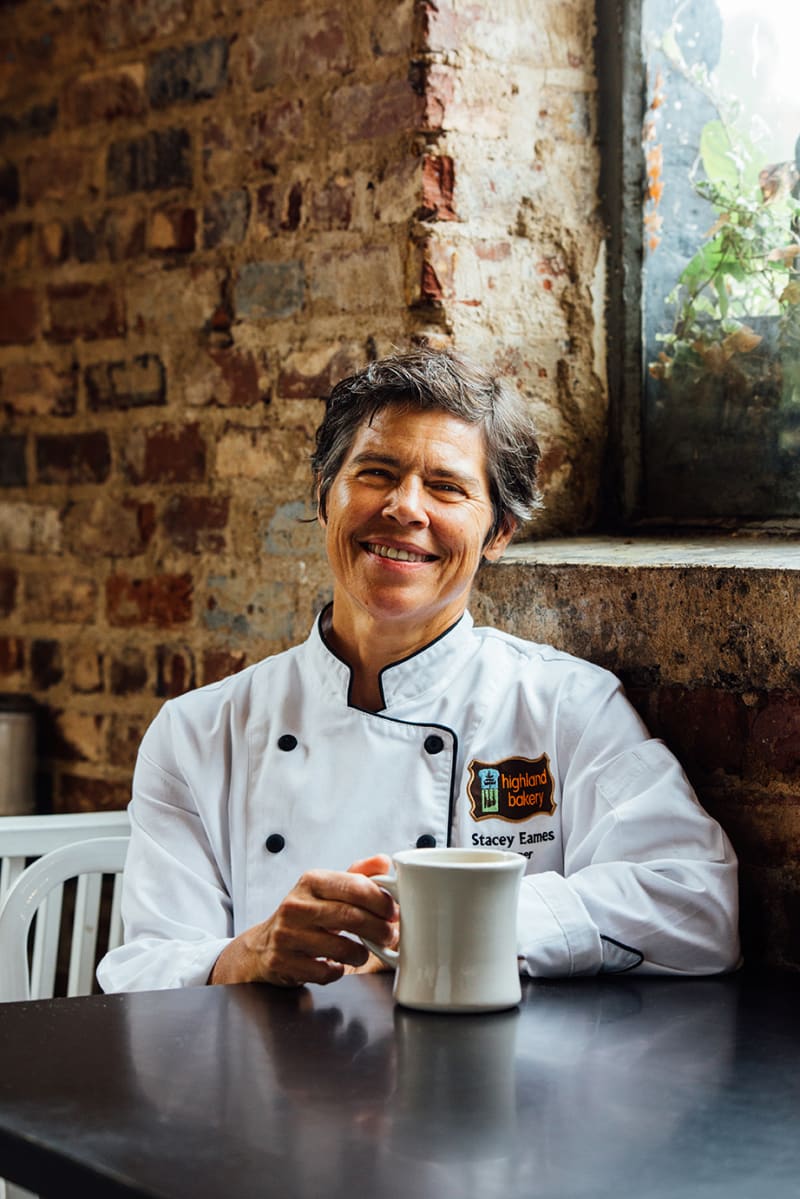 batter
2 eggs
14 g (1 tbsp) sugar
¼ tbsp cinnamon
1 tsp vanilla extract
236 ml (1 cup) whole milk
In a medium sized bowl, whisk the eggs thoroughly. Whisk in the sugar, cinnamon, and vanilla. Add milk and whisk until mixture is fully incorporated.
brown sugar batter
227 g (8 oz) butter
454 g (16 oz) brown sugar
158 ml (2/3 cup) water
In a medium saucepan, melt butter over medium heat. When butter is fully melted, whisk in brown sugar and water. Continue heating and whisking until sugar is fully dissolved and the mixture is smooth.
Bring to a boil. Then cut off the heat and allow to cool to room temperature. Store in an airtight container. Do not refrigerate.
french cream
132 g (4.7 oz) cream cheese
42 g (1.5 oz) powdered sugar
158 ml (2/3 cup) half 'n' half
Allow cream cheese to warm to room temperature. Combine all ingredients in a blender and blend until smooth. Store in an airtight container. Refrigerate unused portion for up to two weeks.
griddle
neutral oil
8 slices challah
dipping batter
Heat a cast iron griddle over medium. Lightly coat with a neutral oil. Once oil is shimmering, dip two slices of challah into the batter, and place onto the griddle.
Cook until golden brown, about 4-7 minutes on each side. Remove finished slices to a cutting board. Slice all pieces in half on the diagonal.
plate
brown sugar butter
french cream
16 strawberries, sliced
½ pint (2 cups) blueberries
Slice strawberries.
Arrange french toast slices on warm plates. Garnish with blueberries, strawberries, french cream, and brown sugar butter.
Sunday Biscuits
Sunday Biscuits
Table bread
makes 24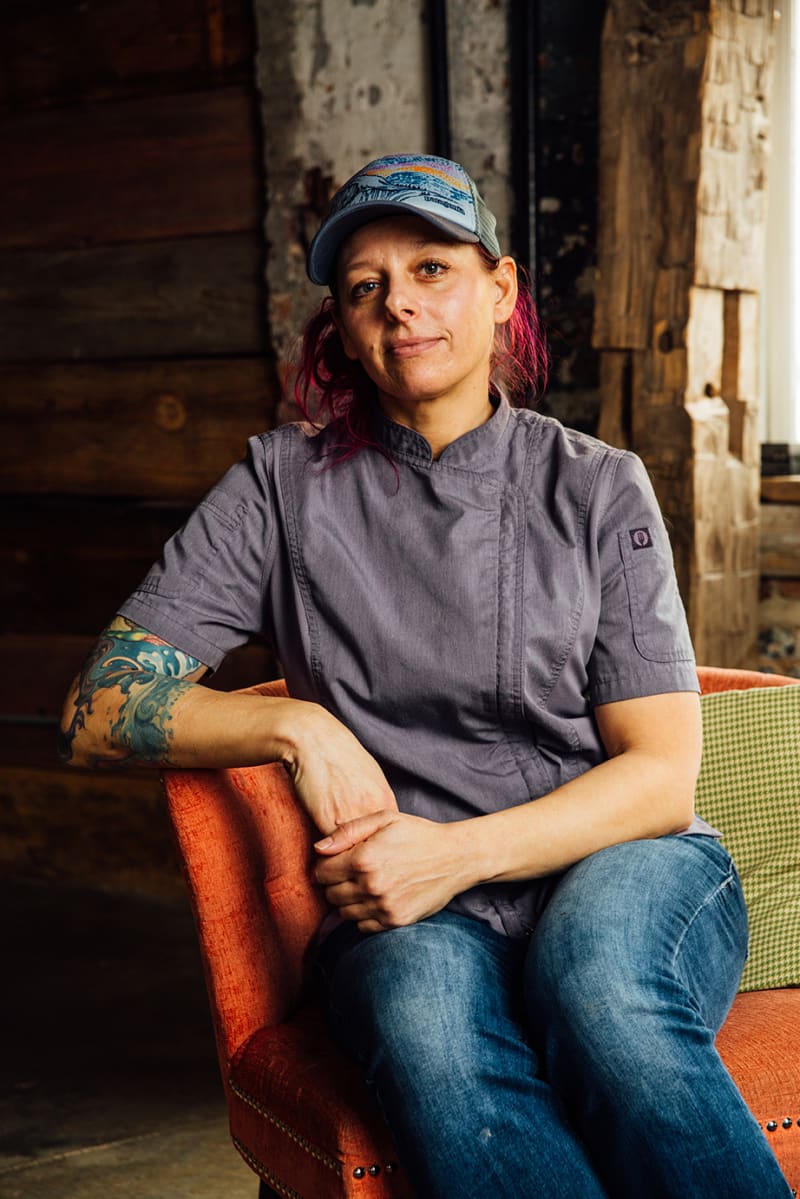 Biscuits
2½ lbs AP flour
1 oz salt
4½ oz sugar
3 oz baking powder
1 lb butter
1 qt (4 cups) buttermilk
Freeze butter. Shred with a box grater. Return to the freezer so that it refreezes.
Preheat oven to 375 F.
Whisk together dry ingredients. Add frozen shredded butter to dry mix. Incorporate thoroughly using fingertips to work flour into butter shreds. Add the buttermilk and mix until just combined. The dough will be fairly stiff.
On a floured surface, roll out the dough into a square. Sprinkle with a little water. You can use a spray bottle filled with water, if you have one.
Fold one half the square over on top of the other half. Rotate the dough so that the open end of a "book" fold is facing you. Do another fold. Roll out to about 1" thick.
Using a ring/round cutter dipped in flour, cut and portion biscuits. Place onto a sheet tray lined with parchment paper.
Be sure to dip your cutter in flour in between each and every cut. When cutting, be sure to press straight down. Do not turn the cutter as you press down.
Brush the biscuit tops with buttermilk. Bake until golden brown. Rotate sheet tray halfway through baking.
Farmhouse Fried Chicken
Farmhouse Fried Chicken
white oak pastures. romanesco. mac 'n' cheese.
serves 6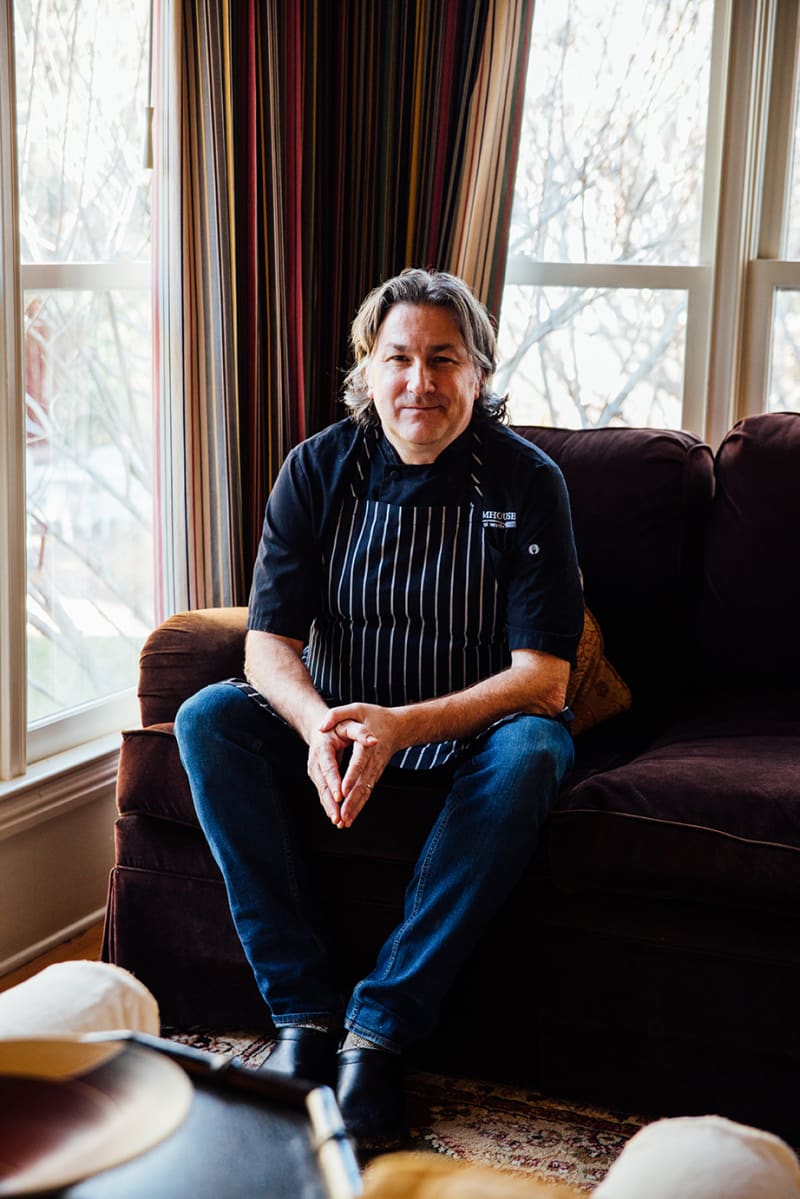 marinade
6 chicken breasts, bone in and skin on, from
White Oak Pastures
3 cups kosher salt
½ gal buttermilk, whole fat
2 tbsp hot sauce, Texas Pete
salt
black pepper
Place the chicken breasts in a metal bowl and cover in kosher salt. Allow to sit for 15 minutes.
Under running cold water, scrub the chicken with the salt and rinse off. Pat dry.
Place the buttermilk in a sealable container. Add hot sauce, salt and pepper. Add the chicken. Marinate overnight in the refrigerator.
fry
5 eggs
1 tbsp hot sauce, Texas Pete
12 cups all-purpose flour, organic
2 tbsp kosher salt
2 tbsp black pepper, f resh ground
2 tbsp garlic powder
2 tbsp onion powder
2 tsp aleppo pepper, ground
12 cups manteca
In a medium mixing bowl, whisk eggs and hot sauce. Season with salt and pepper.
In a large mixing bowl, sift the flour, black pepper, garlic powder, onion powder, aleppo pepper, and salt until homogenized.
Preheat oven to 375 F.
Remove chicken from the buttermilk, letting any excess buttermilk drip off. Dredge in the flour mixture, then lightly shake. Dip into the egg mixture and let excess drip off. Dredge once more in the flour mixture. Set aside on a sheet pan and allow to rest for 15 minutes.
In a large cast iron skillet, heat lard to 345 F. Gently place chicken into the skillet, skin side down. Fry on both sides until golden brown. Remove to a sheet pan.
Once all breasts are fried, place the sheet pan into the oven. Cook until chicken reaches 165 F internal temperature.
vegetables
1 lb tri-colored carrots, organic and washed
1 lb romanesco florets
4 oz olive oil
4 tbsp ras el hanout
sea salt
black pepper
Preheat oven to 375 F.
Place all ingredients into a large bowl and mix until seasoning is evenly distributed. Place on a sheet pan and into the oven for 20 minutes or until vegetables are slightly brown. Toss in oil from the pan before serving.
mac 'n' cheese
2 lbs penne pasta
1 lb sharp cheddar
1 lb Thomasville Tomme
1 vidalia onion
2 tbsp flat parsley leaves
4 eggs
1 qt heavy cream
salt
black pepper
2 tsp nutmeg
2 tsp Texas Pete hot sauce
1 tbsp worcestershire sauce
1 cup panko breadcrumbs
Preheat oven to 350 F. Grease a 9 x 13 inch casserole dish. Pyrex works best.
Cook the penne according to instructions on the package. Strain and lay out on a sheet pan to cool. Do not rinse.
Shred the cheddar. Cut the tomme into large dice. Grate the onion with a box grater. Chop the parsley leaves.
In a large mixing bowl, whip the eggs and cream together until smooth. Season with salt, pepper, and freshly grated nutmeg. Add the hot sauce, onion, parsley, worcestershire, and ½ of each cheese to the cream and egg mixture. Mix with a spoon to blend all ingredients.
Mix the panko and remainder of the cheeses together and set aside.
Toss cooked pasta in the cream mixture. Rest for 10 minutes, letting noodles fill with as much mixture as possible. Transfer into the casserole dish. Top with cheese and panko mixture. Cover with foil and bake for 20 minutes. Uncover and return to the oven. Bake until the cheese is golden brown. Cool for 15 minutes. Cut into single portion squares.
Chicken Wings
Chicken Wings
Jerk Marinade.
serves 4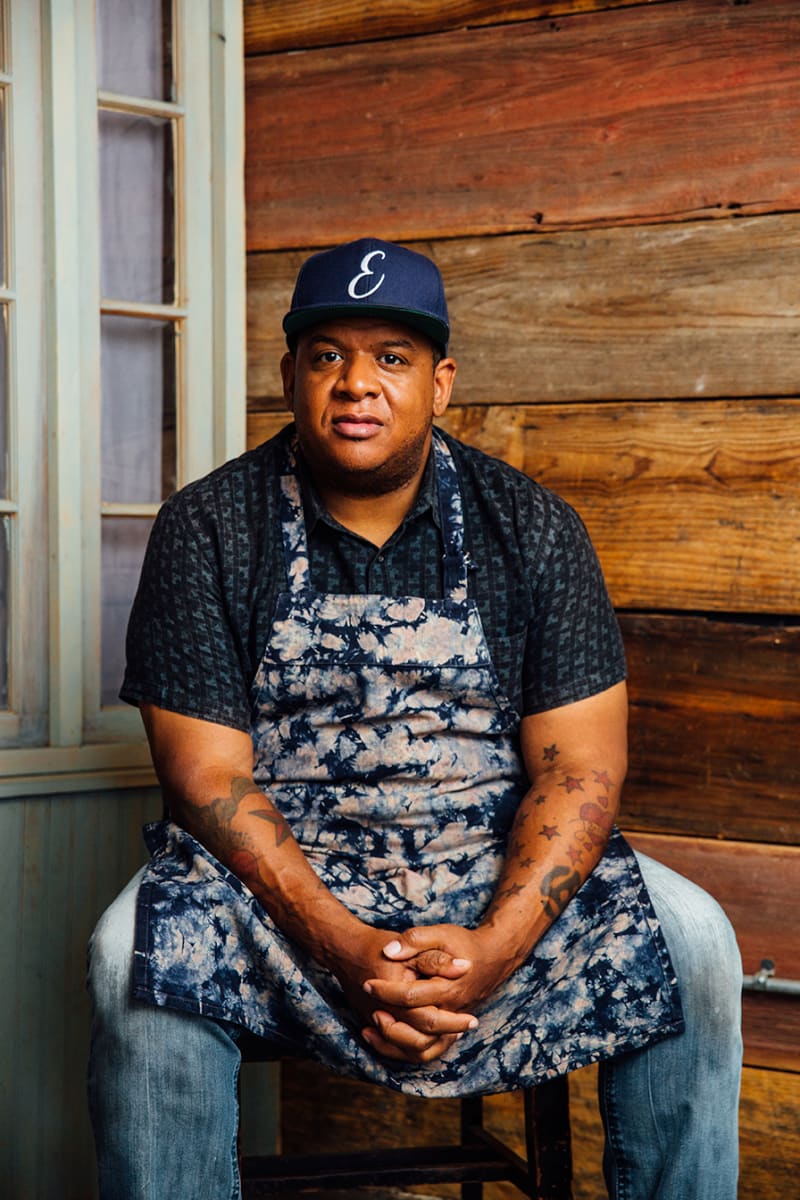 Marinade
16 chicken wings, jumbo
1 onion, medium
6 cloves garlic
3 scallions, medium
2 Scotch bonnet chiles
2 sour oranges
1 lemon
2 tbsp brown sugar
1 bunch thyme
2 sticks cinnamon
1 tbsp five spice powder
1 tbsp allspice berries
1 tbsp black pepper
1 tsp nutmeg
2 tbsp kosher salt
½ cup maggi seasoning
½ cup worcestershire sauce
1 tbsp blended vegetable oil
4 cups pineapple juice
1 cup water
Coarsely chop onion, garlic, scallions, and scotch bonnets. Quarter oranges and lemon. Smash allspice berries. Coarsely grind black pepper. Freshly grate nutmeg.
Combine all ingredients, except chicken, in a large bowl and allow to come to room temperature, stirring occasionally.
Marinate chicken in the refrigerator for 8 to 10 hours. If at room temperature, marinate for only 3 hours. Must be cooked the same day if marinated at room temperature.
Wings
blended vegetable oil
salt
black pepper
Heat grill to medium, approximately 325 F.
Remove chicken from marinade and rub with oil. Season with additional salt and pepper. Place on the grill. Ensure even cooking by rotating, but do not move too much. Some char brings out the flavor.
Remove orange and lemon quarters from marinade. Grill alongside wings.
Cook until the wings' internal temperature reaches 175 F or there is no red at the bone, about 12 minutes.
Grilled Okra
Grilled Okra
yogurt. peanuts. mint.
serves 4-6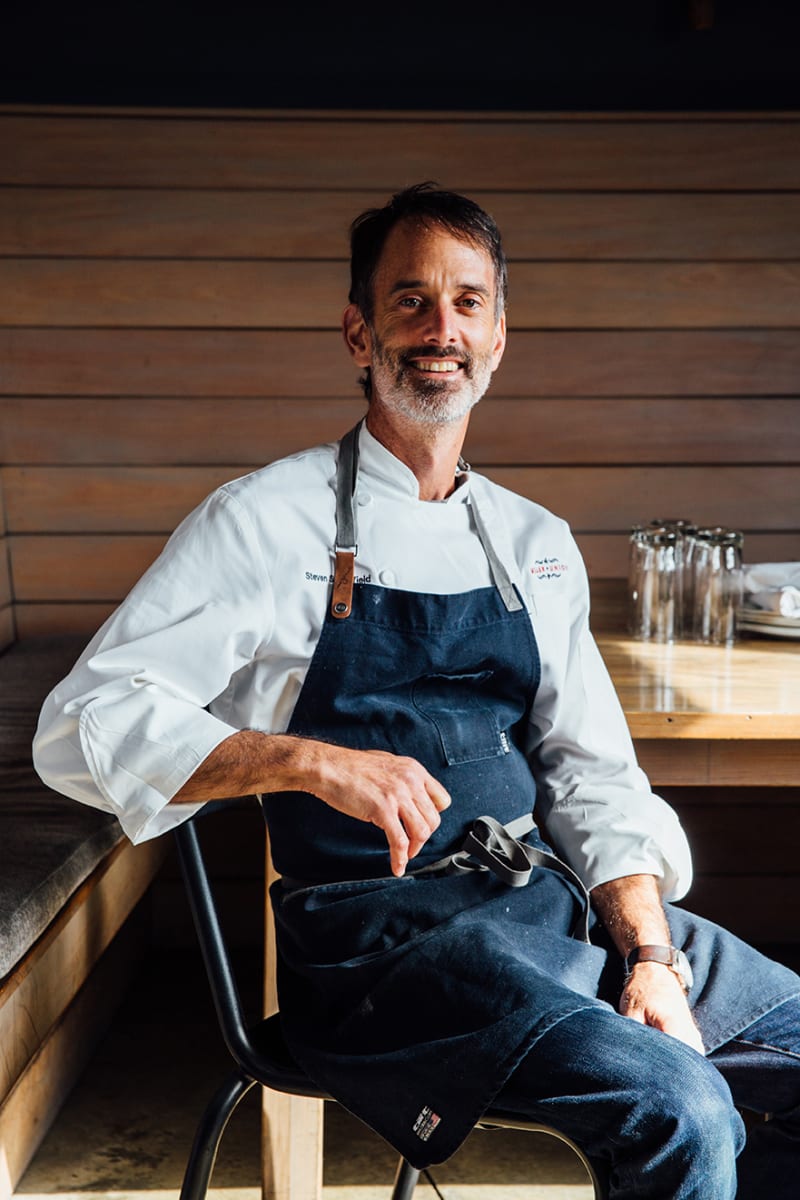 Yogurt
1 cup whole-milk greek yogurt
1 large clove garlic
zest of one lemon
juice of one lemon
1 tsp cumin, ground
1 tsp coriander, ground
1 tsp red pepper flakes, dried
½ tsp kosher salt
6 inch wooden skewers, soaked in water
1 lb f resh okra pods
In a medium bowl combine yogurt, cumin, coriander, red pepper flakes, and salt. Using a microplane, grate the garlic clove then sprinkle it and the lemon zest over the yogurt. Cut zested lemon in half. Juice over a small wire mesh strainer into the yogurt, to catch any seeds or pulp. Stir well to combine. Cover and refrigerate until ready to use.
okra
6 inch wooden skewers, soaked in water
1 lb f resh okra pods
Prepare the grill. Place natural charcoal and/or wood and light. Let flames flare up and die down before cooking on them. If using a gas grill, heat to medium-high. Prepare the remaining ingredients while the grill preheats.
Wash okra and place on a towel to dry. Arrange okra pods side by side on a work surface with all tips facing in the same direction.
Holding the pods in place with one hand, thread a skewer about ½ inch from the top of each pod, just below the cap of the okra, with your other hand.
Thread a second skewer about ½ inch from the bottom of each pod, just above the tapered tip, creating a row of secured pods that looks like an okra plank. Be sure to leave the ends of the skewer exposed an inch to prevent
the pods from falling off. Repeat with more skewers and okra until all the pods are secured and planked.
grill
okra planks
3 tbsp peanut oil
kosher salt
Brush the okra planks on both sides with peanut oil; sprinkle evenly on both sides with kosher salt.
Place the okra planks on the hot grill. Cook until the pods begin to char slightly, about 2 minutes; flip and grill the okra on the opposite side about 2 minutes more.
Transfer the grilled okra to a platter to cool and then remove the skewers when cool enough to handle.
plate
½ cup peanuts, roasted
spiced yogurt
3 to 4 tbsp mint leaves, chopped
charred okra
Place the yogurt in a serving bowl and top with peanuts and fresh mint. Place the individual grilled okra pods around the bowl. Serve warm or at room temperature.
Discover More
Get to know Atlanta, and discover the best things to do around the city.